Drai's Nightclub Information
| | |
| --- | --- |
| NIGHTS OPEN | Thursday, Friday, Saturday, Sunday |
| LOCATION | Cromwell Hotel |
| COVER CHARGE | $50 Cover Charge – Get In For Free On Our Guest List |
| OPENING TIME | Doors Open at 10:30PM |
Drai's Nightclub is known for being the Las Vegas leader in nightlife concert events. It's common to have the top stars performing each week, and guests know they are going to be getting their favorite hip hop music. Drai's is designed with both indoor and outdoor areas that are seamlessly connected. On the interior there is a massive dance floor, two bars, and two floors to see, or be a part of all the action. The outdoor layout lets guests explore the rooftop design with breathtaking views of The Strip and the Bellagio fountains. In the middle of it all both DJs and musical artists have a stage that feels like a concert. The lighting, production, and sound inside Drai's is state of the art, and there are always go go dancers adding to the flow of the night.
HOW TO GET TO DRAI'S?
Inside the Cromwell Hotel the entrance to Drai's Nightclub is found near the center of the casino. From the main valet guests will simply walk toward the center of the main floor and look to the right. There are plenty of signs around the property to help direct groups toward the club entrance.
WHAT IS THE DRAI'S NIGHTCLUB DRESS CODE?
In order to attend Drai's Nightclub guests will want to adhere to the club dress code. Men should wear nice jeans or dress pants, a collared shirt/sport coat, and dress shoes. Please avoid wearing shorts, sandals, hats, jerseys, or athletic attire. For more information on the rules check out our Nightclub Dress Code Guide.
DOES DRAI'S NIGHTCLUB HAVE A GUEST LIST?
Joining the Drai's Nightclub guest list allows special benefits for attending club events. Ladies get free entrance. Men get free entrance or reduced cover charge in groups with an even ratio of women, or more women than men. Both men and women skip the general admission line and should look for the guest list check in area located on the left side of the club entrance. Skip the nightclub promoters. Drai's management reserves all rights.
HOW MUCH IS DRAI'S NIGHTCLUB COVER CHARGE?
The cost for general admission tickets and cover charge for Drai's Nightclub vary in price. For women the costs can be between $20 – $50 and for men between $30 – $75. For special events and holidays cover charges can exceed $100. The Drai's Nightclub guest list is a free service.
WHEN IS DRAI'S NIGHTCLUB OPEN?
Drai's NIghtclub is open on Friday, Saturday, and Sunday nights from 10:30 PM to 4 AM. It is also open on Thursday nights for the spring and summer months for Swim Night events. Wait times for entries can be long, especially for popular events. We highly recommend arrival before 10:30 PM to beat the lines.
HOW DOES THE DRAI'S DOOR OPERATE?
The front entrance of Drai's is organized with roped off areas. There are plenty of visible signs to help direct groups to the correct entrance locations. The guest list entrance is on the far left and table service and ticketed entry is near the center.
WHAT ARE THE BEST NIGHTS TO GO TO DRAI'S NIGHTCLUB?
Saturdays and industry nights on Sundays are the best nights to attend Drai's NIghtclub. You'll be treated to the top live, hip hop performances on these nights of the week.
HOW MUCH ARE DRINKS AT DRAI'S LAS VEGAS?
The prices for drinks at Drai's range between $10 – $15 for beers and mixed drinks. Top shelf drinks and shots can exceed $20 each.
WHAT KIND OF MUSIC IS PLAYED AT DRAI'S?
You'll find hip-hop music at Drai's every night. This includes top tier concert performances.
HOW DOES THE DRAI'S NIGHTCLUB BOTTLE SERVICE WORK?
The VIP experience at Drais Las Vegas comes with bottle service and table reservations. MyVegasVIP offers groups a special treatment with your own table, roped off area to sit and dance, your own bottles of chosen alcohol, mixers, waitress, busser, and security. Drai's bottle prices start at $600 before taxes, gratuities, or tips. Once you have reserved a table you'll be assisted by a VIP host at the club entrance, be walked in to your table, and be able to enjoy and keep it for the entire night. Bottle service is the best way to experience Drais. The best tables at Drai's are located in the main room near the dance floor. For more information on bottle service, pricing, quotes, and reservations head to our Drai's Nightclub bottle service page.
PHOTOS OF DRAI'S NIGHTCLUB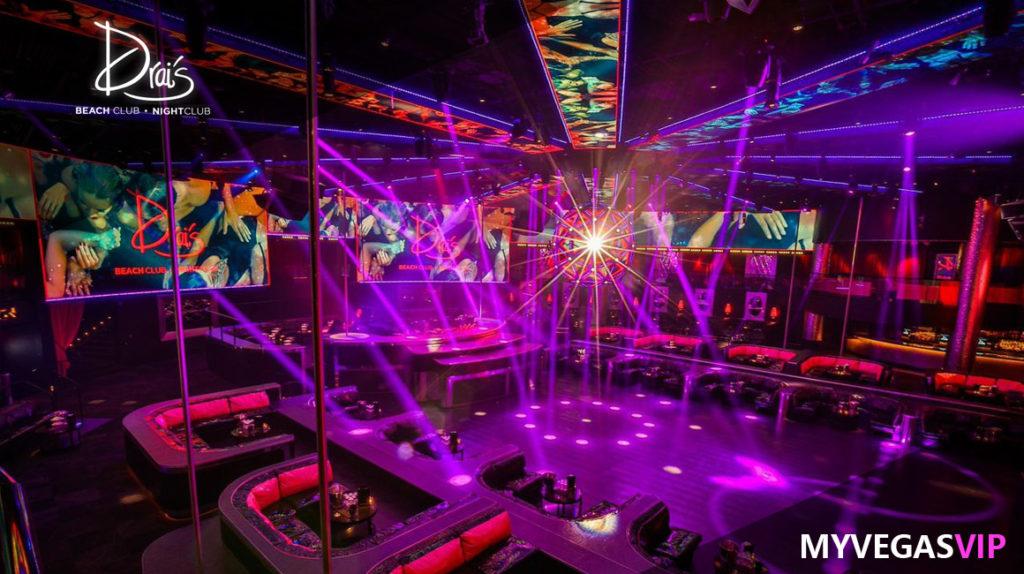 VIDEOS OF DRAI'S NIGHTCLUB